Diese Veranstaltung hat bereits stattgefunden.
DU▼AT Anita Berber ✷ Egyptian Lover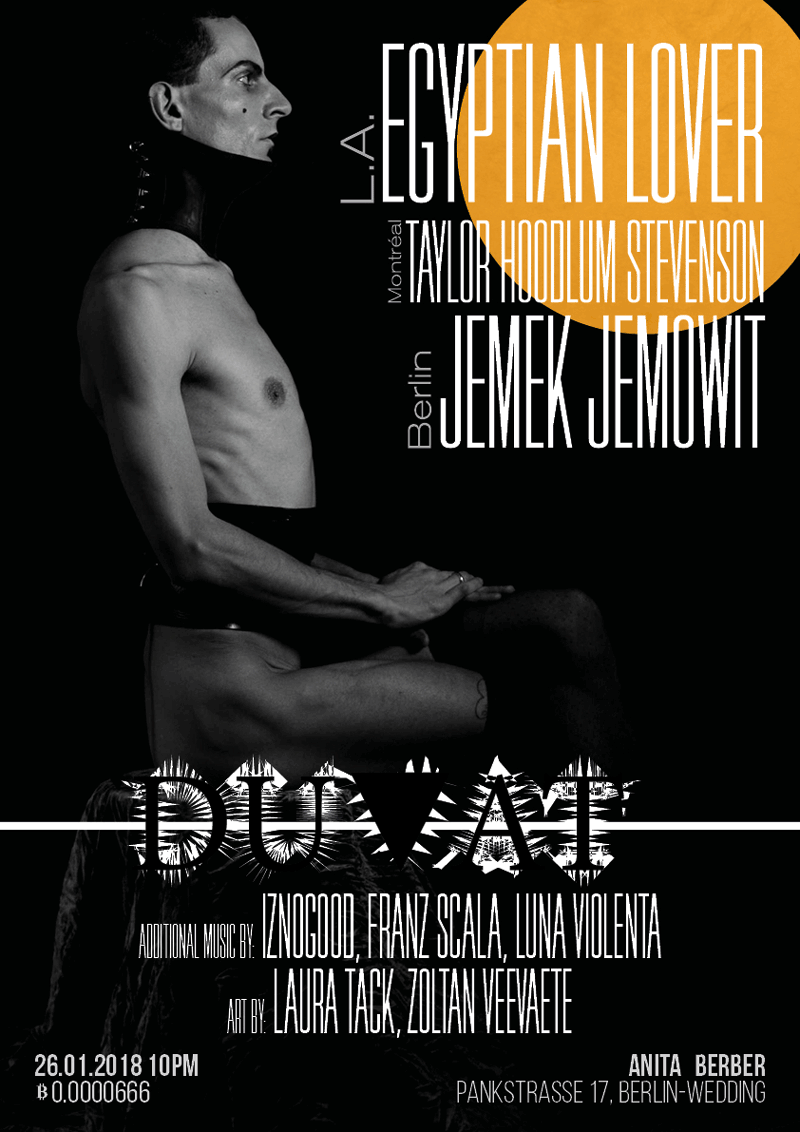 ✷ LIVE ✷
Egyptian Lover (LA)
Jemek Jemowit (Berlin/Gdynia)
Taylor Hoodlum Stevenson (Montréal)
✷ DJs ✷
Franz Scala [Slow Motion]
Luna Violenta [Instruments of Discipline]
✷ ART ✷
Laura Tack (Marrakesh)
Entrance: EUR 7,- [no presale]
facebook event
resident advisor
▼ EGYPTIAN LOVER ▼
The Egyptian Lover is an American musician, vocalist, producer and DJ, and was an important part of the L.A. dance music and rap scene in the early 1980s.
WIKIPEDIA
▼ JEMEK JEMOWIT ▼
Jemowit's credo seems to be "life is too short for just one genre"; to this day, he's involved in musical universes as disparate as new wave/beat, disco polo (the Polish variety of Eurodance), rap, and trap – and, no matter the style, always presents an explicitly political message.
▼ TAYLOR HOODLUM STEVENSON ▼
Taylor Hoodlum Stevenson is a Montréal technoir legend active for over ten years. Blending elements of weird italo, post punk and horror movie soundscapes, Taylor will have you dancing through hell. 
BANDCAMP
▼ LAURA TRACK ▼
Laura Tack is a Belgian painter and sound artist. Her approach within her practice lies within a metaphysical and poetical foundation. She has been a member of Con Artist Collective in New York and Heima Collective in Seydisfjordur, Iceland. She studied at The Royal Academy of Fine Arts, Ghent and has exhibited in New York, New Jersey, Miami, Marrakech, Ghent and Copenhagen. Laura Tack is currently living and working in Marrakech, Morocco. She is the co-founder of the residency program at Queens Collective, a queer community art space.
VIMEO