Diese Veranstaltung hat bereits stattgefunden.
BURDEL#1
21. September 2017 ► 22:00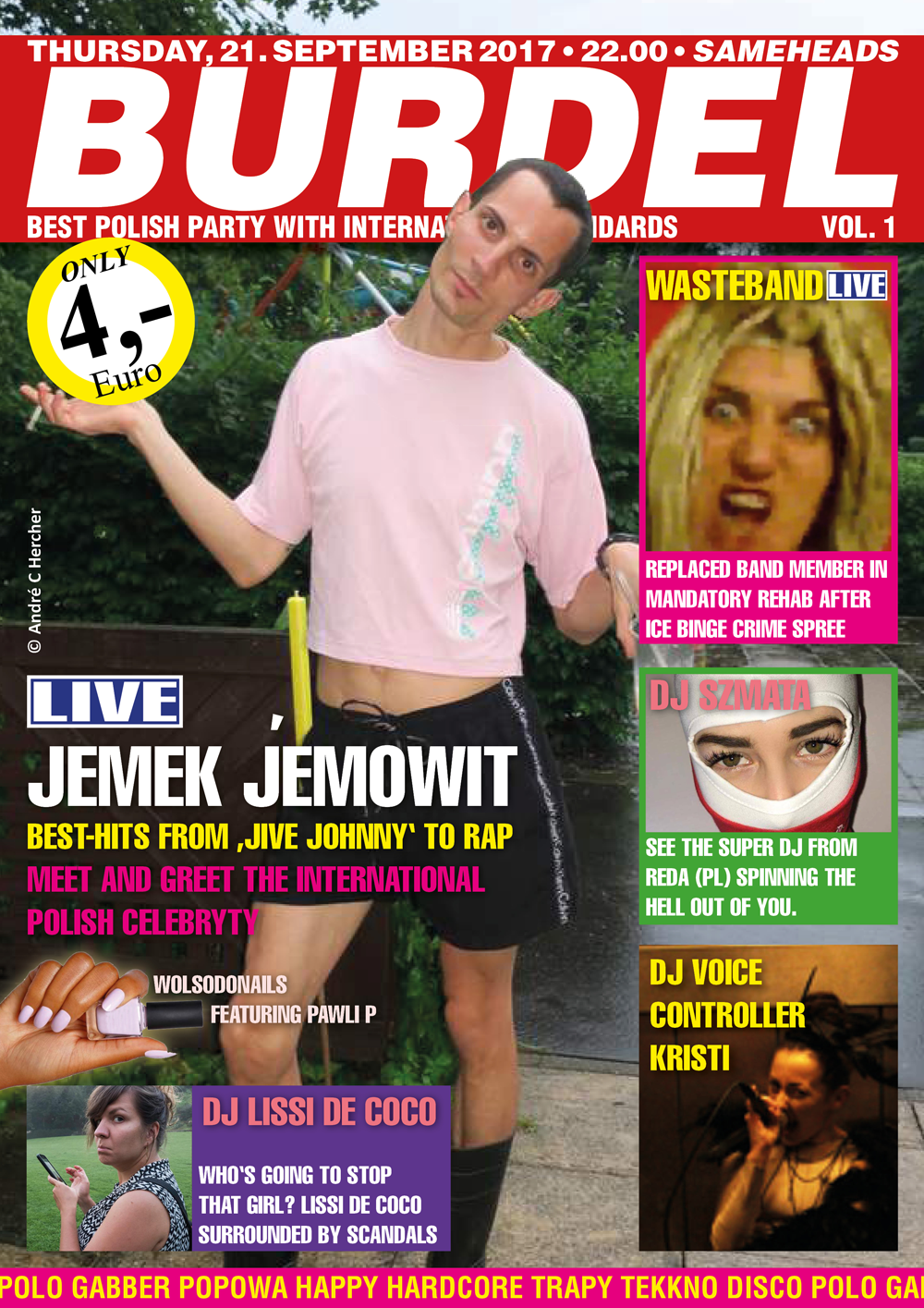 DJ Szmata presents
Magazine launch party for first issue of BURDEL
presents
JEMEK JEMOWIT (live)
presents
Best-Of-Super-Hits [from Rockabilly to Supersilly!]
super-orted by
WASTEBAND (worldwide) https://soundcloud.com/wasteband
Brings u Party by
DJane Lissi de Coco (tropic'hain) https://soundcloud.com/lissidecoco
DJ Szmata (Reda, PL) https://soundcloud.com/djszmata
Voice Controller Kristi https://www.mixcloud.com/vc-kristi/
Wolsodonails by Pawli P
cover: 4 EUR
JEMEK JEMOWIT
Jemowit's credo seems to be "life is too short for just one genre"; to this day, he's involved in musical universes as disparate as new wave/beat, disco polo (the Polish variety of Eurodance), rap, and trap – and, no matter the style, always presents an explicitly political message.
WASTEBAND
WSTBND THE EXPANDABLE WAISTEBAND A history of waste since 1998. Self amplification becomes self expansion.
Voice Controller Krisi
Kristi is an active DJ since 2002, very well known for clunk and grind of large industrial machines with heavy kick and dirty bass lines. She played in night clubs, at illegal raves, squat parties, lakes, parks and woods all over Europe
Her sets will undoubtedly unleash crazy beast in you !
Lissi De Coco
Lissi de Coco is an awesome DJane from Coco-Loco.
DJ Szmata
"I am living my dreams: I always wanted to be a dj in a big city", the man behind DJ Szamta is Justyn Nowak. He's mixing Disco Polo, Techno and pop music on his computer by himself